New Items in the Shop
We offer a wide range of items to cater for most tastes and occasions.  From antique objects to vintage items, from the purely decorative to the downright weird and wonderful. From the casual buyer to the more serious collector, we hope that you'll find something that suits you and your budget in our shop.
Anything?
We only buy things we like, and we don't have any particular focus or speciality when we are seeking items. So, it's definitely worth having a proper browse of what we have on offer, just in case you find that "perfect" (or perfectly imperfect) thing.
Whilst we have tried to organise this website and our collection of products into reasonably logical categories, some things actively defy categorisation.  Please take a full look around because categories sometimes lie.  We will also launch "collections" of objects around a particular theme so visit us regularly to see those as they become available!
Our items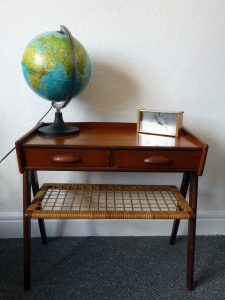 First, we try to describe items as accurately as we can, bearing in mind that determining the age of an item or discerning its origins is sometimes dangerous.  If we're sure something is old we'll tell you. If we know its origins we'll tell you. If we're not sure then it won't be labelled as such. Above all,  we suggest appreciating each item for attributes other than age or provenance.
Second, we don't do "vintage style" or "shabby chic". It's just not us and unfortunately those terms have become increasingly confusing and misleading. We really don't want people to buy something that really isn't what they think it is, so we'll be as straightforward as we can be about the integrity of an item, any renovation we have done, etc.  We probably won't be mentioning Annie Sloan paints here! 😉
Third, we try to present to you the best example of an item we can find. If one of our products is a relatively common piece or is representative of an overall style, we'll try to locate one in the most complete and best condition we can.
Our aims
What we do aim to do is find good items that have "something about them" – in terms of design or quirkiness or condition. Where required, we will show items a bit of love to give them a fresh lease of life. Or, we will re-purpose them to breathe an entirely new life into them. In addition, we hope that the vast majority of our items represent a good balance of quality and affordability. We really do hope that you'll see a range of items here and that they appeal in terms of good value for money.
You can read more about us on our "About Us" page.
We like interesting items both old and new or things which seem to tell a story, and we hope you like them too! If you have questions about a particular item, would like us to find an antique, vintage item, piece of furniture or curio for you or for you to give as a gift, or you just generally want to chat to us, please contact us.