16th November 2019
The story of an item: Piero Fornasetti "Eye" Paperweight
You probably haven't realised it but you've almost certainly come across the work of Piero Fornasetti. A prolific designer and creator during the middle and later part of the 20th Century his work is difficult to categorise, ranging as it does from serious classical inspired black and white designs to colourful and witty pieces, from high brow to surrealist to pop art and many areas in between. The "trademark" Fornasetti deign, though, is a humorous twist on a seemingly serious subject, executed in a black and white.
The Fornasetti Eyeball Paperweight which is in the display cabinet at Sandiacre Antiques Emporium seems to get quite a lot of attention. The design of the eye itself has become iconic and much copied, and it seems particularly apt when used on an almost globe-shaped ceramic paperweight such as this: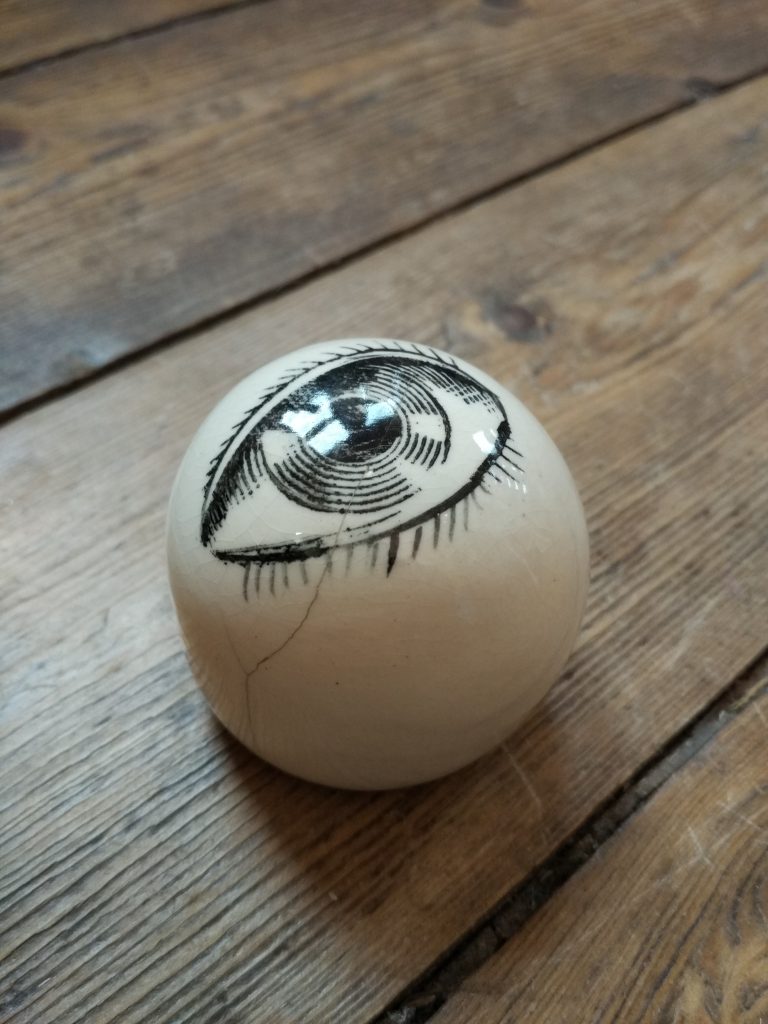 It isn't for sale at the moment. It's there as a reminder to me that items have a worth which is only a matter of perception and circumstance. When it was first spotted during a very casual charity shop perusal, it simply appealed because of the design and the feel of it in the hand. It just looked and felt "right" but nothing more than that. I certainly hadn't recognised it as an identifiable "thing" at this stage. It was cheap enough and it actually was functional for what it is: a paperweight. A place would be found for it.
So, it was handed over to the woman at the till and I readied to purchase it. I had already noticed that the woman was in a rather distracted and animated chat with a colleague (I say "chat" but it was gossip-like in tone), and somehow at the point of opening the till and asking me for the money, she managed to effortlessly fling the paperweight back over the counter and onto the floor. A surface which, unfortunately, was a little too unforgiving for the paperweight. it suffered an almost complete fracture to make two halves. The internal "core" was also damaged and could now be heard rattling around inside, clearly also in several pieces. Cue an awkward and embarrassing silence, and then an apology and an offer to have it gratis.
Nonetheless, I brought it home and did some research. The paperweight was retailed by the Pop Art shop Dodo Designs and it was indeed a Fornasetti. Current prices for these varied somewhat, but suffice to say even a conservsative estimate was substantially more than the price in the shop. For some time afterwards, there was a deep and sinking feeling of value lost or certainly money not gained (and a little bit of ire directed at the shop assistant, who really should have been paying more attention!).
Without knowing about the item it would simply have been a much less impacting sense of sadness that a nice little ornament had been damaged and so my feelings changed. It became less about the value of the item in financial terms and more about the item itself and with that in mind, I set about repairing it. The inner core was shattered and beyond repair and the two halves required reuniting. I weighed it and did some research to find out what it should weigh and, after some planning and several days execution, I carefully put it all back together with a new core which had the same weight as the original.
The end result is a paperweight which looks very attractive, feels nice in the hand, has a good weight to it, and isn't in several pieces. Yes, it's a Fornasetti. Yes, it would have been worth quite a decent amount of money without the mishap which befell it. Yes, it's a shame. Yes, it's on display.  No, it's not currently for sale. It's a very material reminder about cost, about value, about trying to make good out of bad, and about not hanging onto a negative outcome when there's another way. I found a place for it.