5th August 2018
The story of an item: Late 19th Century Japanese Silk Embroidery Picture
Some time ago we purchased a framed picture which we liked. It was a stylised embroidery of flowers and leaves in a vase. With varied textures and tones of orange, green/gold and red on a black background it really appealed to us even though we knew very little about embroidered pictures. We did think it was quite reminiscent of the kind of embroidery we associated with the 1960s and 1970s here in the UK and that's initially how it sat in our heads. To us, it was a piece of relatively modern European textile art which we just liked and which went on the walls for our enjoyment. To be honest, we dismissed it quite quickly as something which didn't have a story to tell…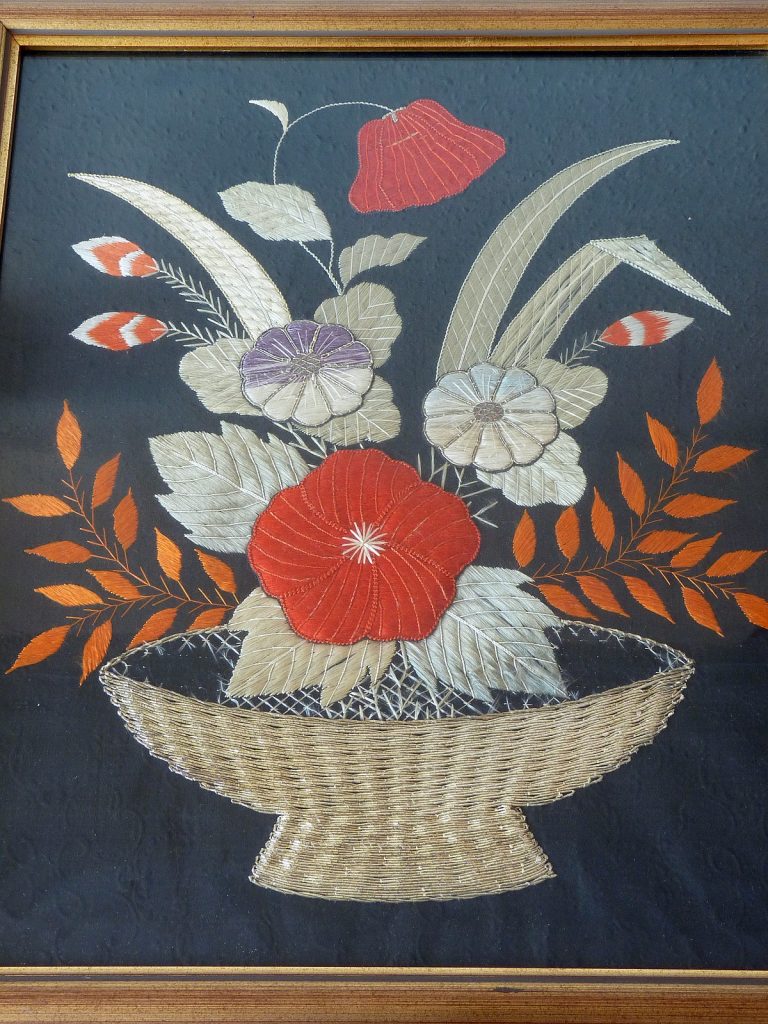 Fast forward a few months, and having put the picture to the side,  searching for information about a completely different object, we had a chance encounter with an item which looked very much like our own and this turned our assumptions about it upside-down.
The item we came across wasn't exactly the same as the one on our walls, but it was close enough to warrant further attention. A little more reading resulted in an identification of our "1960s/70s European textile picture", and with some apprehension we set about confirming this by removing the back of the picture to see what was underneath. According to our research, this might gives us concrete clues as to its origin and that very much proved to be the case: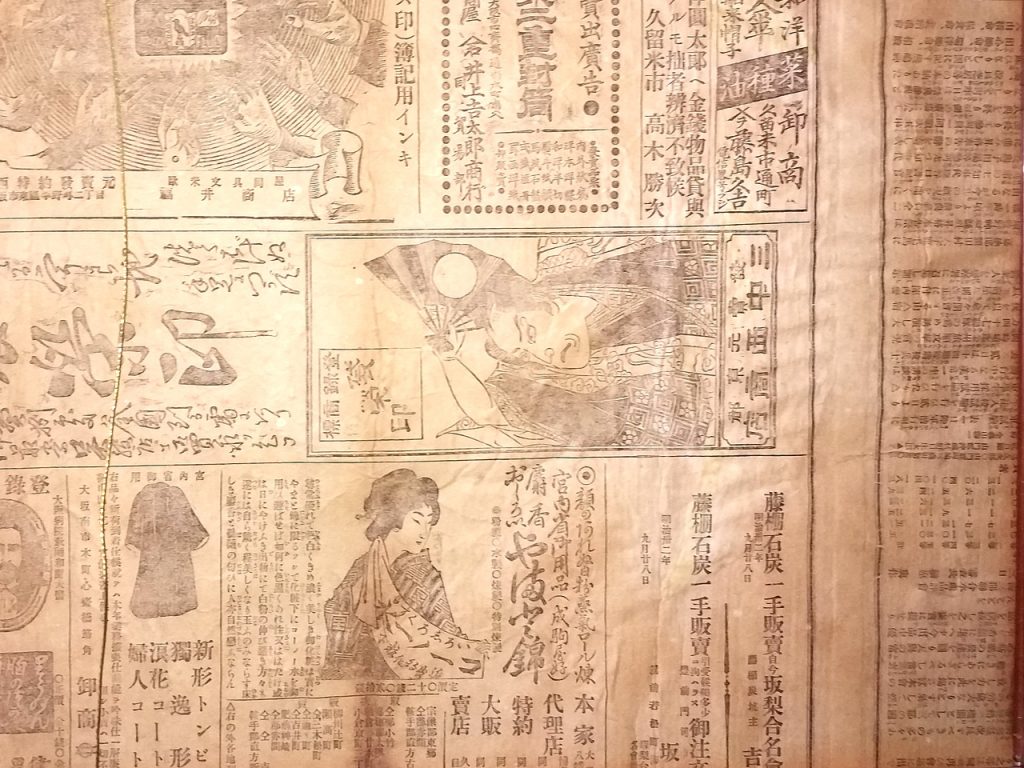 You are probably already thinking that's not the usual style for European newspapers! It is, however, very much the style of a Japanese newspaper. What's more, a clue within the otherwise unintelligible page, provided us with a possible means of dating the newspaper and – with a relatively good degree of accuracy – the embroidery attached to it: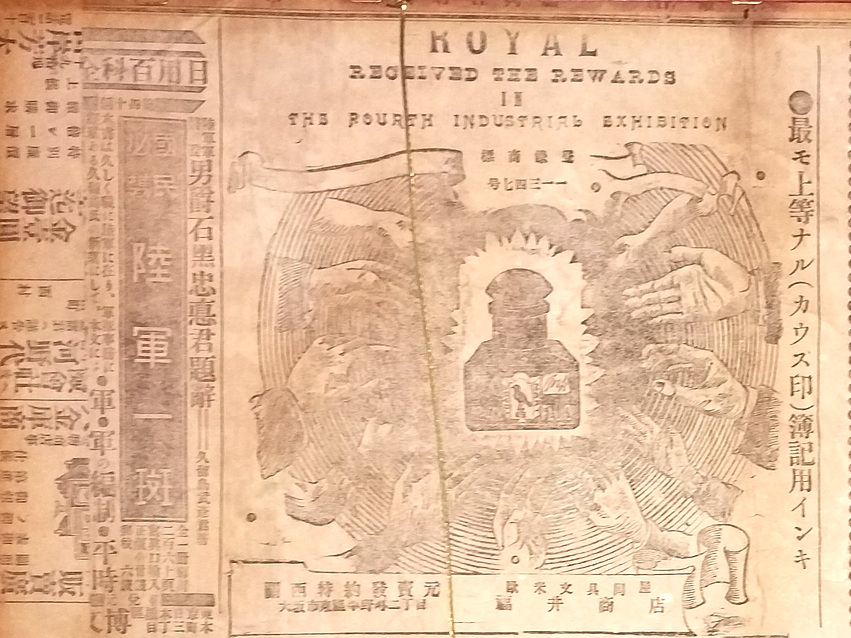 A little more research revealed that the Fourth National Exhibition in Japan took place in Kyoto, in 1895. This means, obviously, that the newspaper couldn't be older than the advert referring to it.  The embroidery wasn't likely to pre-date the newspaper by very long, if at all.  Similarly, an advert referring to the Fourth National Exhibition isn't likely to have been produced too many years after the event either – perhaps just in the following year or two.
So, our seemingly rather uninteresting but admittedly much-liked embroidery picture had a few secrets hiding away from us.  Far from being European, it's Japanese and made in Nagasaki by an embroiderer called Imamura who was active around the latter years of the 19th Century and turn of the 20th Century.
This all serves as a reminder to us not to make easy assumptions about anything we come across. Some things are worth questioning, perhaps sometimes because they have appealed for some reason, and perhaps sometimes because they have not.
We'd be keen to hear from anyone who might have any additional information about Imamura in particular or late 19th or early 20th Century Japanese embroidery in general. Until a few months ago we knew nothing. Now we know a little bit more, but would certainly appreciate being able to expand our knowledge further.  If you might be able to assist or if you're interested in purchasing this item from us, then please do get in touch. We would love to hear from you either way.