29th October 2017
By
Jon Nix
Off
We promised you interesting items…
… but we didn't really have in mind anything like this "Food Flying Squad" badge: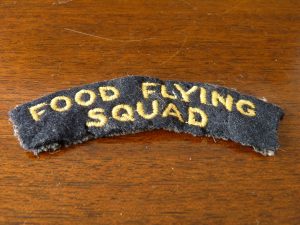 We should be upfront with you and say that none of us is really au fait with militaria and it's just not an area that we ever intended (nor intend) to get into. We actually came into possession of this item rather by accident since it was part of a job lot containing many items won at auction.  We didn't think much of it when we first saw it and put it to one side thinking it was not very remarkable at all – a rather nondescript badge which held little appeal to us at face value.  But when we started to do some research we realised it was actually a scarce item with an interesting background.  The Food Flying Squad was part of the Womens Voluntary Service which was set up just prior to the start of the Second World War. It continued to provide food to those in need after the war, responding to major civil emergencies, such as during the flooding of the East Coast in 1953.
The short video clip below shows the work of The Food Flying Squad:
So we learned quite a lot from this item which we considered to be an "also ran" kind of thing, but most of all we learned not to dismiss anything until you've properly investigated it.
We have also been busy sourcing items to bring to you and are pleased that we have added some lighting and furniture recently and will be adding to both of these categories very soon. In the meantime, we'll hope to unearth as many interesting items as we can…!